ere's a bit about what I'm working on these days...

I'm running a new media and events venture for people who work on innovation and R&D in big companies, called Innovation Leader. Already, we've dived into how organizations like Amazon, Intel, Google, Johnson & Johnson, Disney, GE, LEGO, and Walmart are trying to innovate better/faster/cheaper. In November 2015, we launched a print magazine to accompany the Innovation Leader website, which recently won an award from the Society of Publication Designers. In October 2020, we ran our biggest event ever, Impact 2020, with more than 800 participants from around the world.

My newest book, Innovation Economy: True Stories of Start-Ups, Flame-Outs, and Inventing the Future in New England, is coming out in February 2021. It brings together 50 of my favorite pieces from more than two decades of covering frontier science and company creation in New England. It explores what it takes to start and build businesses — whether selling fresh-cut New Hampshire Christmas trees online or designing bespoke bacteria on the edge of Boston Harbor. I include profiles of Dean Kamen, Tim Berners-Lee, and Ray Kurzweil; stories about the early days of Dropbox, Facebook, and iRobot; and tales of scammers selling computer gear on eBay and scientists racing to create effective COVID vaccines. It will also answer your questions about why Cambridge has hundreds of biotech companies and neighboring Somerville almost none; how the frat house that inspired "Animal House" became a coworking space; the mysterious Cambridge factory where every Junior Mint in the world is produced; what happened when one startup tried to obtain a license plate for its flying car; and why robots may need to carry candy to bribe humans.

My column Innovation Economy runs weekly in the Boston Globe. I cover technology, life sciences, entrepreneurship and venture capital. My own tagline is "What's New in New England." I've had a long-standing connection with the Globe and Boston.com since 1995, when I was part of the team that initially created Boston.com; I started writing a regular column for the paper, then called "@large," in 2000.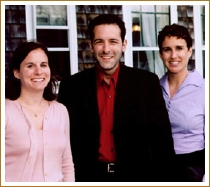 That's me with Alyssa Stern and Shayne Gilbert, the two people with whom I work on Future Forward and several other events.


I speak at, host, and help organize a number of conferences and networking events in Boston and elsewhere. Right now, we're in the midst of putting together this year's editions of The Convergence Forum, a life sciences gathering that takes place in May, and the Nantucket Conference, a tech event that happens in June. I help develop the agenda for both events.
If you're trying to contact me, that information is here. (E-mail is always best, unless it's exceedingly time-sensitive.) You can also follow me on Twitter: I'm @ScottKirsner.